In May, I passed my Ph.D. prelim exam! When I was preparing the prelim slides, I really wanted to try something new. I'm tired of the beamer slides (no offense, just because they are everywhere). Then I found the xaringan R package. The xaringan package enable us to create slides in R Markdown with remark.js. The name comes from Sharingan from the anime Naruto! 🤣😆🤣
I think xaringan is game-changer for presentation, especially you need present any R codes. Like the beamer slides, xaringan has many themes. However, there is no theme for University of Wisconsin-Madison. Therefore, when I was creating my prelim slides using xaringan, I created a UW-Madison theme inspired by Joseph Casillas's Rutgers theme. Recently, Yihui, the author of xaringan, approved my pull request about the UW-Madison theme. This is actually my first pull request! Here are some a couple of screenshots for the theme: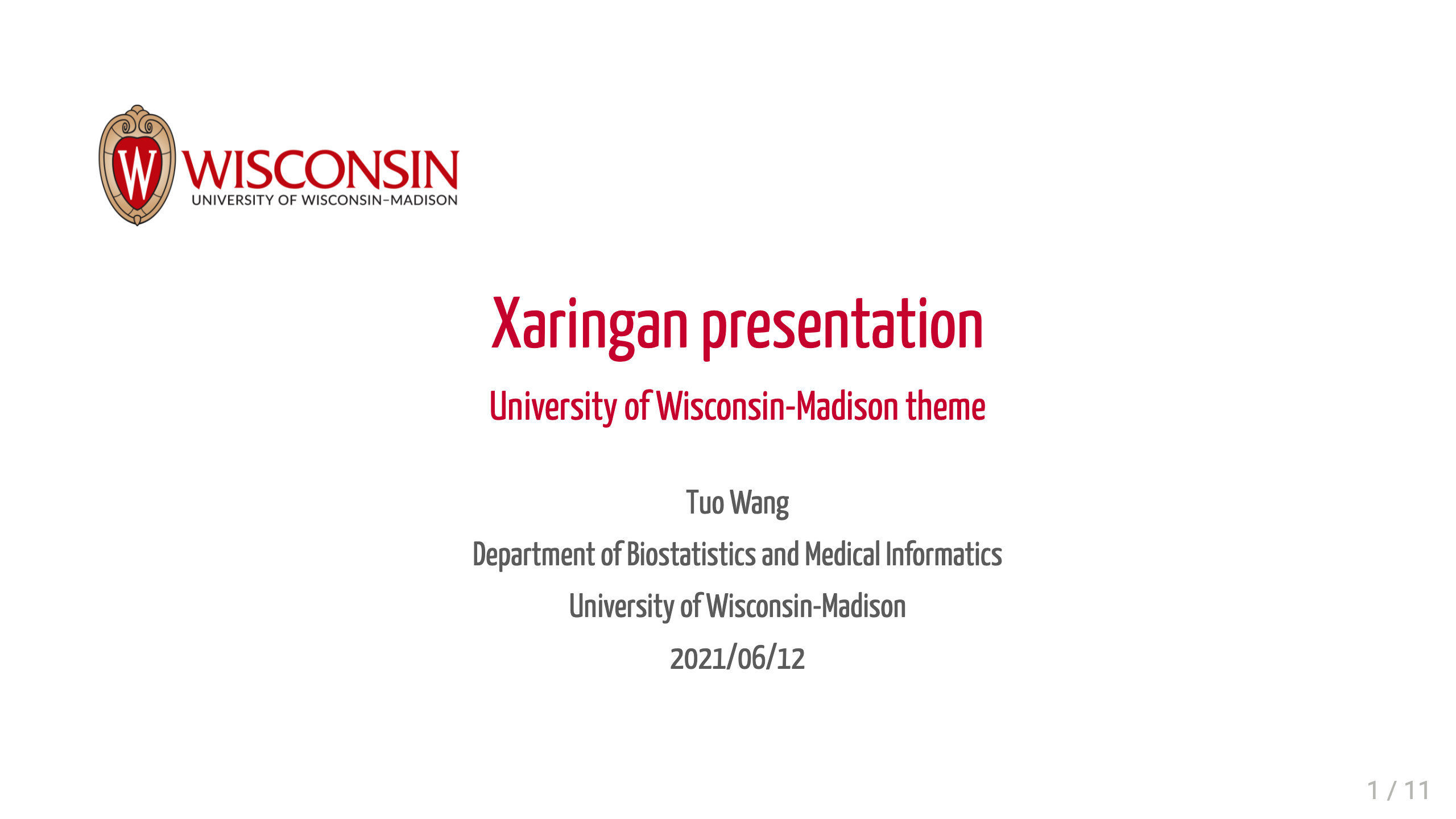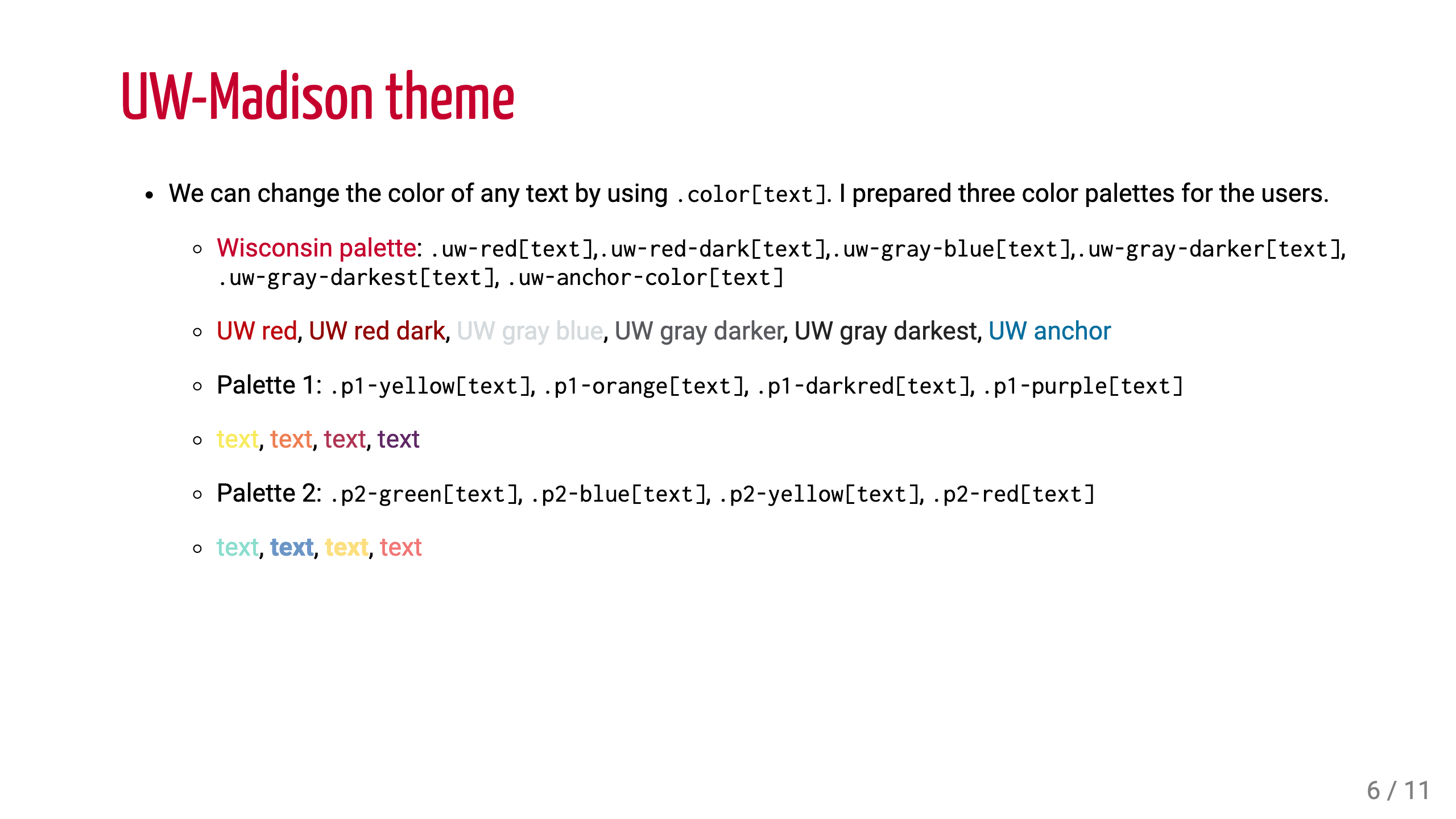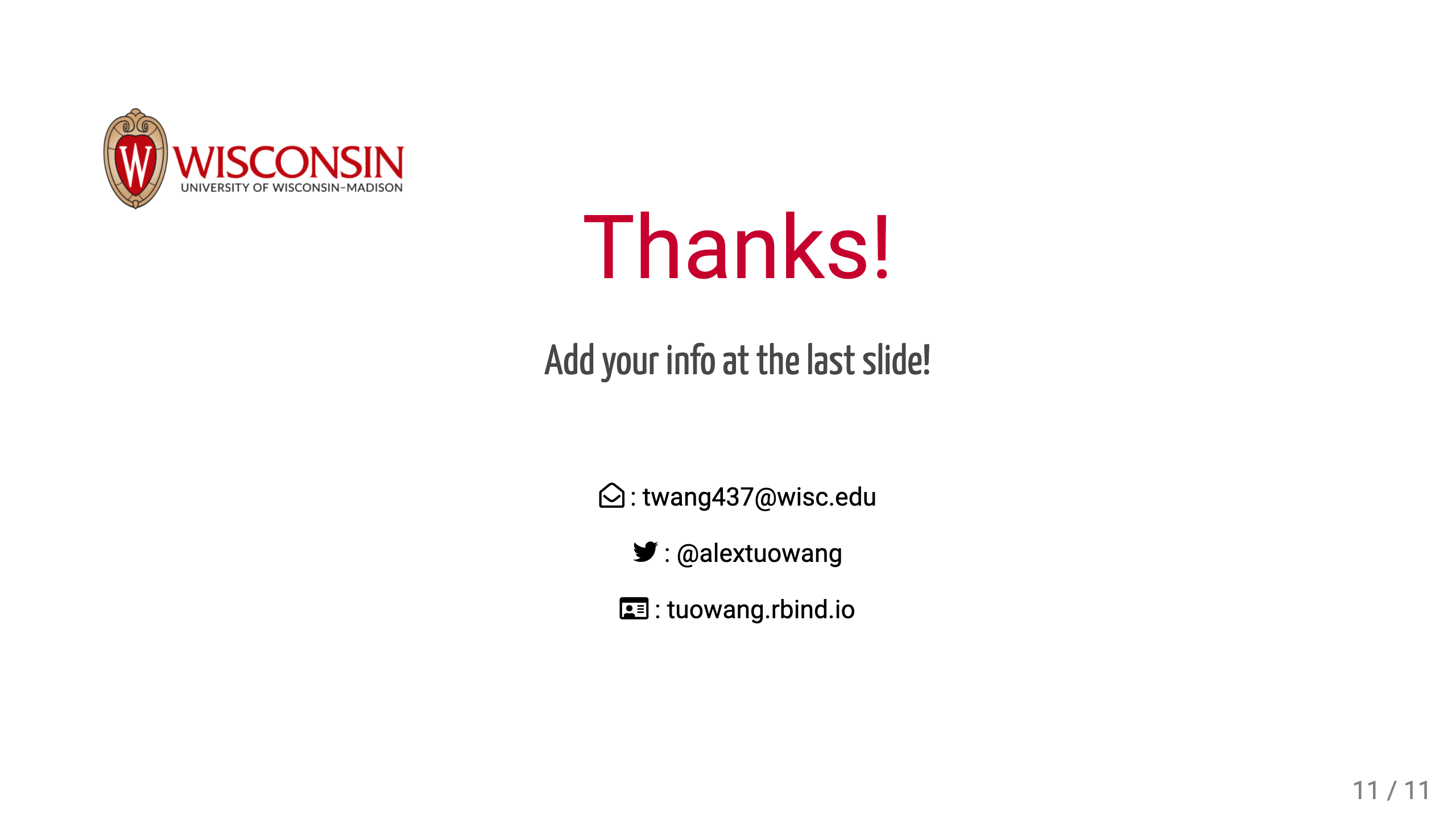 UW-Madison theme for xaringan
Here is a summary about the UW-Madison theme:
devtools

::

install_github

(

'yihui/xaringan'

)

How to enable the UW-Madison theme:
output:
  xaringan::moon_reader:
    lib_dir: libs
    css: ["uwm", "uwm-fonts"]
    nature:
      highlightStyle: github
      highlightLines: true
      countIncrementalSlides: false
      ratio: "16:9"

Some great tutorials and extensions for xaringan
Here are some great tutorials:

Some useful extensions for Xaringan
Some Tips
Do not forget to try the option yolo: true under xaringan::moon_reader in the YAML metadata of your R Markdown document. A picture of smiling Karl will be randomly insert in the slides.

Use DT for interactive tables.

xaringanExtra R package has many other additional and powerful features.

Insert emoji by using emo R package 🤔 😆 👍

Insert icon by using icons R package

If you don't like the default font size and color, you can change them by using html syntax <span style='font-size:55pt; color:#cc0033'> some text! </span>

If you want to change any elements of this theme, feel free to edit the source file as you like.

The best way to learn about Xaringan is reading other people's source codes.
Posted on:

June 17, 2021

Length:

2 minute read, 358 words

Categories:

See Also: